Fashion Doll Restore3: Tuesday Taylor Doll
By: Roselyn Gadia-Smitley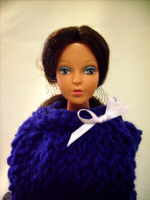 Photo1: Tuesday Taylor Doll (1975) - Headshot, photo by: Roselyn Gadia-Smitley
Throwing away damaged dolls is hard for me to do. I find it an excellent challenge to restore dolls so that they may be displayed again. My skills in fashion design comes in handy when I am taking these projects on. It is an excellent way for me to do something when I do not want to do my household chores. Restoring dolls is a joyful hobby to fall back into, after a week of hard work for someone else.
One of these damaged dolls which came into my possession is "Tuesday Taylor", a fashion doll by Ideal Toy Corporation. She came free with two of the same dolls (sold as nude and played with) via an internet purchase. Tuesday Taylor is a very unusual doll as her scalp turns and will change from blonde to brunette (dark brown) hair.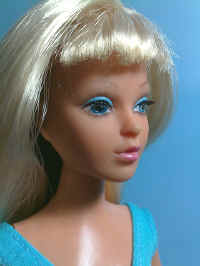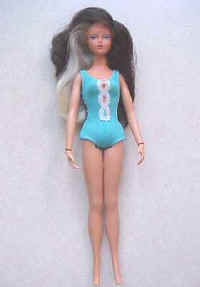 Photo2 Photo3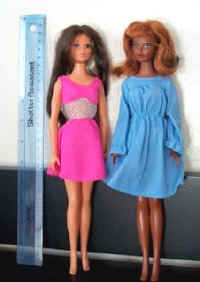 Photo4
Photo2: Tuesday Taylor Doll, source: flickr.com
Photo3: Tuesday Taylor Doll (with original swimsuit), source: franshouseofdollsandtoys.com
Photo4: Tuesday Taylor Doll (with Taylor Jones Doll), source: phillycollector.blogspot.com
Tuesday Taylor stands at 12 inches in height. Her body is of hard plastic. Her head, arms, and legs are of soft vinyl plastic. She has painted features. She has blue eyes (with blue eye shadow at the lids), tanned skin, and dusty rose pink lips. Her gaze is directed to the left, not staring directly at the viewer. She has rooted nylon hair with brunette (dark brown) and blonde sections in a turning scalp feature. This allows the viewer to switch hair colors from blonde to brunette. Her Black counterpart, Taylor Jones, has hair that switches from redhead to brunette. Tuesday Taylor is jointed at the neck, arms, wrists, and legs. Her feet are sculpted for high heels. Markings at the back of her head follows:
Copyright 1975, Ideal, H-248, HongKong
Tuesday Taylor that I refurbished for this article sustained dog bites. Both her hands were completely chewed off. She has bites at her left knee and teeth marks at her feet. Her face is undamaged and retains its beauty.
Photo5 Photo6
Photo7
Photo5: Tuesday Taylor Doll without Her Hands, photo by Roselyn Gadia-Smitley
Photo6: Tuesday Taylor With Polymer Gloves, photo by Roselyn Gadia-Smitley
Photo7: Tuesday Taylor in "Gingham Folly", photo by Roselyn Gadia-Smitley
I studied this damaged doll to make it display worthy, without changing her structure permanently. I went to our local hobby store and picked up a metallic black polymer clay. This type of polymer can be shaped and baked in the oven. I formed the clay to simulate a gloved hand. After forming each glove in solid clay, I pushed each glove into the uneven damaged arm, making sure that the right and left hand were in its correct position. This process allowed for the formation of a hollow space which served as a receptacle for the damaged arm. I sculpted "freehand" with a sculpting tool to simulate long gloves. The sculpting tool resembles a dentist pick. After I baked the clay, according to the manufacturer's instructions, I refitted the long glove to each arm. The prostheses worked. These new hands (in guise of long gloves) can be removed. These gloves are pliable as it is made of some type of plastic material. Tuesday Taylor has not been altered, but improved. The photographs above, illustrate Tuesday Taylor with and without her gloved prostheses hands.
To dress Tuesday Taylor, I knitted a dark blue acrylic sweater for a loose fit, resembling a tabard. The gloved hands made it difficult to dress the doll, so large armholes are essential for the sweater. I knitted the neckline too large for the doll. To make the neckline fit better, I threaded a 1/4" width satin ribbon through the loops and drew the ribbon to the left side of the sweater. I knotted the white ribbon into a bow which made the bow functional. I made a blue gingham skirt to match the sweater. I will name this ensemble : "Gingham Folly". The tiered gingham skirt is couched with the same acrylic dark blue yarn as the sweater to harmonize the ensemble. This styling is appropriate for autumn or winter wear in the U.S. in the mid- 1970s. Tabards and tiered skirts were popular items at this time. Having gloves for the wardrobe made sense.
Tuesday Taylor is presentable again. I am thrilled to restore this beautiful doll. My hand prostheses will work for any doll. If you have a doll with similar condition, consider sculpting hands in polymer clay.
Happy Collecting!
For additional information, click at these links:
COLLECTING BARBIE DOLLS ON A BUDGET