Collecting Barbie Dolls On A Budget
By: Roselyn Gadia-Smitley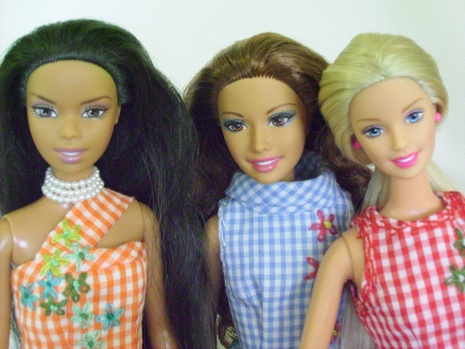 Photo: Barbie dolls with "Nikki" (1990) face mold, "Raquelle" (2003) face mold, and "Jewel Girl" (also known as "Generations Girl", 1998) face mold. Photo by Roselyn Gadia-Smitley.
Collecting Barbie dolls is a fun and rewarding hobby for a fashion designer or a recreational home sewer. As I love sewing, I use Barbie as a model for my creations. Barbie utilizes a much smaller space than a full-scale model in display and storage. In addition, creating Barbie's clothing requires small amounts of materials which many home sewers already have on hand.
I purchase used Barbie dolls from thrift stores around my town in the U.S.. Used Barbie dolls in thrift stores are sold at around $2.00 each. They are often sold without clothes, dirty, and have hair that are matted. You can clean up used dolls by using a soapy basin of water, shampoo for the hair, and conditioner for the hair as well. To clean the doll, I use a soft (used) toothbrush with the soapy water. For the hair, I wash with regular shampoo and then follow it up with a generous amount of hair conditioner. I use a wide tooth comb to untangle the hair from the bottom and work my way up to the scalp. Be patient as this may take a while to untangle the full head of hair. Make sure that you use a plug in your sink to catch the doll's stray hairs when rinsing the head of the doll. Nylon doll's hair can plug up your drains in no time.
When purchasing used Barbie dolls from the thrift store, avoid dolls that have marks or damages to the face. If the dolls have marks or damages to the body, arms, or legs, these areas can be covered with clothing. I purchase dolls without cuts or missing fingers or extreme damages to the feet. Missing paint to the face can be retouched with a small brush, using acrylic paints.
Haircuts done to the used Barbie dolls can be restyled to your taste. New hats (purchased or made new) can also cover hair that has been cut short or sparsely rooted. To keep the hairstyle in place, I sew invisible nylon thread, using a chain stitch to secure hair strands in place. The chain stitching can be removed without damage to the hair if the hairstyle needs to be changed.
Collect Barbie on a budget, without breaking the bank. Happy Collecting!
For additional information click on this link:
Retirement Hobby - Collecting Barbie
(611)
5508