FASHION DOLL RESTORE1:
"Flair: Sun 'n Fun" (1992) by Totsy Mfg. Co., Inc.
By: Roselyn Gadia-Smitley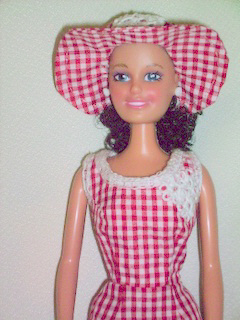 Photo1
Photos #1: Photograph of "Flair: Sun 'n Fun" (1992) by Totsy Mfg. Co., Inc. Photo #1 illustrates the doll with a sheath dress ensemble which includes a portrait hat with new sewn nylon curly hair.
In April 1999, I acquired a 12" fashion doll, "Flair: Sun 'n Fun" by Totsy Mfg. Co., Inc. , for $2.94 from Wal-Mart Store. This doll was originally dressed in white detachable dangle earrings, bathing suit (nylon black & white stripes fabric, with sewn lime green satin ribbon around each leg parameter). The doll was sold without shoes in a bubble pack package. This doll has vinyl head, arms, and legs. The torso is made out of hard plastic. The doll has rooted textured vinyl brunette hair (not entirely straight, but somewhat wavy). This doll has a beautiful smiling face.
Her tanned skin makes this doll suited for a tropical type of clothing as she can pass for a Pacific Islander or a Latina. All facial features are painted. The painted eyebrows are skillfully feathered. Painted eyelashes rims the black painted eyes, with blue paint at the base of the eyeballs. Painted white dots are used as highlights for the eyes. Lips are painted pink and a slight blush is applied to the cheeks. Overall, the painted face has a very pleasing and gentle appearance.
This doll has marks at the back of the head and back of the torso. The back of the head is marked: Totsy, 1992. The back of the torso is marked: Made in China. This doll is characterized with straight arms and bendable knees to the legs, very much in line with its counterpart, "Barbie" by Mattel Inc..
In 2012, thirteen years later, I noticed that the hair of the doll had deteriorated. Inspite of its storage in a closed doll cabinet, the doll's hair began to fall out. I dressed the doll in a gingham dress that I had previously designed for Barbie as I had leftover of the same fabric for a hat. Much to my surprise, just barely touching the hair, the strands crumbled at my fingertips. For my reference, I took photographs of the doll before all of the hair strands fell out. All of the strands fell out eventually, which left the doll bald.
Photo2: Before Restoration
Photo2: "Flair: Sun 'n Fun" With Its Deteriorating Dark Brown Hair. All the hair will eventually fall out, leaving the doll bald.
Rather than root out new hair strands, I decided to design a hat for this doll and sew craft curly nylon doll hair at the base of the hat. I selected black nylon hair as the curls held the nylon stitches better than the straight type. The result is pleasing to the eye. This doll can still be displayed in a glamorous fashion with its hat and "new hair". If your doll has cropped hair, lost its hair, and have hair damage, sewing a hat or decorating a ready- made hat can make your doll presentable again.
Photo3: Full View of Restored Doll.
Happy doll collecting!
FOR ADDITIONAL INFORMATION CLICK AT THESE LINKS:
COLLECTING BARBIE DOLLS ON A BUDGET