COLLECTING BARBIE DOLLS - NRFB or Deboxed
by: Roselyn Gadia-Smitley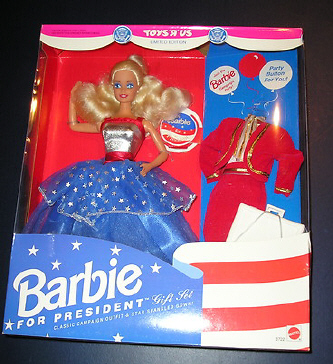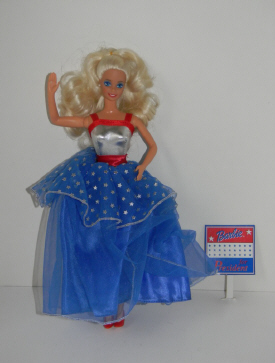 Photo1 Photo2
Photo1 & Photo2: "Barbie For President" (1991). Photo1 is NRFB with all accessories and doll. Photo2 illustrates a doll that is deboxed and its small accessories and additional red suit ensemble are missing. Source of photo1 and photo2: ebay.com.
Collecting "Barbie" dolls (manufactured by Mattel Inc.) is a favorite hobby among many doll collectors. The question of whether to keep a doll in its original packaging is always in the mind of the collector. If you are collecting with resale of the doll in mind, keep the doll in its original box. The description of "NRFB" among selling sites means "never removed from box". The resale value of the doll will be higher than when the doll is removed from the box. The downside of the NRFB is that the doll cannot be seen in its full view. A deboxed doll will lose half of its value. The positive side is that the doll is fully enjoyed by the collector.
I keep Barbie dolls in NRFB condition when there are many small pieces that can be lost. Small pieces can be accessories such as cell phones, handbags, extra shoes, animal pet figures, and other paraphernalia. If a doll is very appealing to me, I may purchase two dolls. I will keep one doll NRFB and open the other for close examination and display. I will usually display the NRFB doll with the deboxed doll to enjoy.
One reason as to the higher value of a doll in NRFB condition is that the package in itself gives a story. The advertising value of the doll and its information is carried by the box. To increase the value of a deboxed doll, keep the box and return the doll to its box when not on display.
One major reason that dolls need to be deboxed is when the doll is wearing a dark colored outfit such as black, navy blue, or red. The fabrics may transfer dyes to the doll over time. This will result in staining of areas in contact between fabric and doll.
When deboxing dolls, make sure that the doll is tagged with its name or series, date of purchase, where it was purchased, and the cost of the purchase. If the box is to be discarded, add the information of its manufacture to the tag and information of accessories that came with the doll. When space is at its premium, you may have to discard the box to avoid clutter. Clutter can be problematic, especially when a collector is sharing living space with other individuals.
Collecting NRFB dolls or deboxed dolls is up to the collector. When collecting Barbie dolls, keep in mind that the doll may not increase in value, NRFB or deboxed. It may not even retain its original value but rather decrease. When collecting dolls, select those that appeals to you and enjoy your collection.
Happy Collecting!
For additional information, click at these links:
COLLECTING FASHION DOLLS To Restore
COLLECTING BARBIE DOLLS ON A BUDGET