BARBIE DOLLS: Happy Holidays Collection
by Roselyn Gadia-Smitley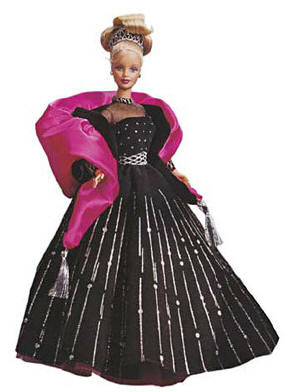 Photo1
Photo1: 1998 Happy Holidays Barbie. Full view of the 1998 Happy Holidays Barbie by Mattel Inc. Photo source: Ebay.com.
The series of "Happy Holidays Barbie" begun in 1988 and ended in 1998 in the U.S.A. There are eleven dolls released for this series. This is the first collection of Barbie dolls that were specifically sold for the collector market with the popular price point of $19.99. These are elaborately dressed dolls, sold for the Christmas season. In 1999, the "Holidays Barbie" dolls were introduced and replaced the "Happy Holidays Barbie" series. In 2012, the "Holidays Barbie" dolls series were sold at the price point of $39.99. The federal hourly wage is set at $7.45 an hour in 2012.
In December 12, 2012, an advertisement in Craigslist was posted for an entire boxed collection of the "Happy Holidays Barbie" with a price point of $300.00. The advertisement specifically invited the customer to visit an antique mall in Odessa, Texas for a two-day scheduled exhibit of the dolls for examination. The dolls are shown in photo2.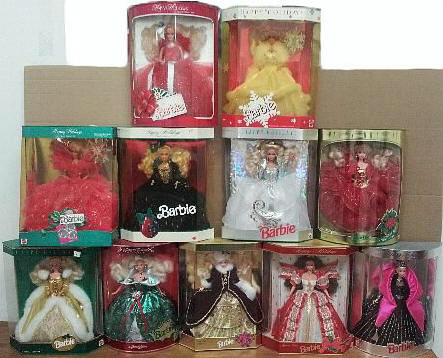 Photo2

Photo2: Happy Holidays Barbie Collection (1988-1998). Photo source: Craigslist.com.

I acquired my 1998 "Happy Holidays Barbie", deboxed for $3.00 in 2012 through my local thrift store. This Barbie doll is featured in Photo1. Her gown is of black velvet with glued on silver designs. The fitted gown has a one-pieced transparent nylon yoke and cuffed sleeves design. A separate gathered (magenta acetate satin) shawl, trimmed with black velvet and silver fringe, is worn by this doll. The silver glued-on glitter on the cuffs, belt, neckline, and crown are of the same diamond shaped design. The crown has three hand-sewn silver sequins and beads. Her elaborate puffed hairstyle with twirled wisps are stiffened. She is wearing plastic silver pierced earrings with a coordinating silver ring on the right hand. She came with a coordinating magenta stand, black pump shoes, and magenta brush. A coordinating magenta tulle petticoat is attached to the skirt. The gown is sewn with a Barbie logo label with the word "Barbie" at the back seam. The gown closed with black velcro tabs.

1998 "Happy Holidays" Barbie has the Mackie face mold with painted features. Her body sculpt is of the classic 1966 body with swivel waists. Her slightly bent and well-sculpted legs do not bend. Her underwear, lips, and nail polish are painted in magenta. Her well-sculpted arms can move backward and forward only. It does not bend. No nail polish is applied to the toes. The back of her head is marked 1991 Mattel Inc. The back of her torso is marked 1966 Mattel Inc., China.

The "Happy Holidays Barbie" Collection is designed for display and to entertain the doll collector. Happy Collecting!

For additional information, click at these links:

COLLECTING BARBIE DOLLS ON A BUDGET

COLLECTING FASHION DOLLS (To restore)

584 +(7)