Bionic Woman Doll - Fembot
by: Roselyn Gadia-Smitley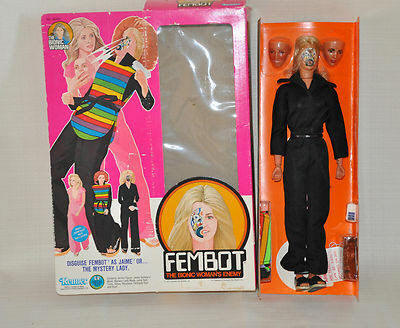 Photo1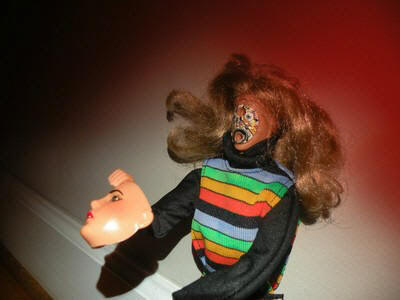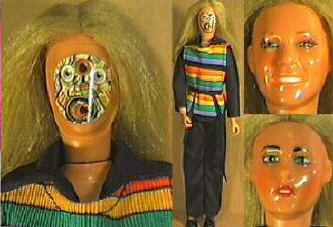 Photo2 Photo3
Photos1-2: Fembot Dolls. Dolls taken out of box. Photo source: ebay.com.
Photo3: Fembot Dolls. Closeup headshots of face and masks. Photo source: toysuhad.com/Bionicman.htm
The "Fembot" doll, released in 1977, is one of the action figures that were manufactured by Kenner Products for the Bionic Woman/Bionic Man toy offerings. The Fembot character was the arch enemy of Bionic Woman. She is a female android who impersonates Jaime Sommers, the main character of Bionic Woman.
The Fembot doll has the same sculpt as the Bionic Woman doll with the exemption of the face. The face is devoid of features, but has a robotic face insert. The fembot doll came with two interchangeable masks. One mask resembles Jaime Sommers (Bionic Woman) and the other named "Mystery Woman". In addition, she also came with a red wig, scarf, and a gun.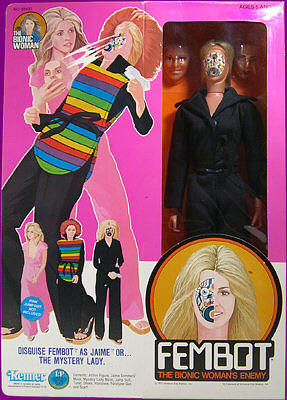 Photo4 Photo5

Photo4: Bionic Woman Doll - Fembot. Front view of the box of the Bionic Woman Fembot Doll.

Photo5: Bionic Woman Doll - Fembot. Back view of the box of the Bionic Woman Fembot Doll.

Photo sources: Photo 5 & 6 from bionicwomanfiles.com.

The Fembot doll wears a long-sleeved black jumpsuit with a removable horizontal-striped tunic. The jumpsuit has a tailored collar and closes at the front. The tunic is in fiesta colors of red, green, yellow, blue, and black. She wears black shoes. The Fembot doll in 2012, in a NRFB condition at ebay.com, can sell for over $200.00.

If you're a fan of the Bionic Woman doll, the Fembot doll is for you. Happy Collecting!

52